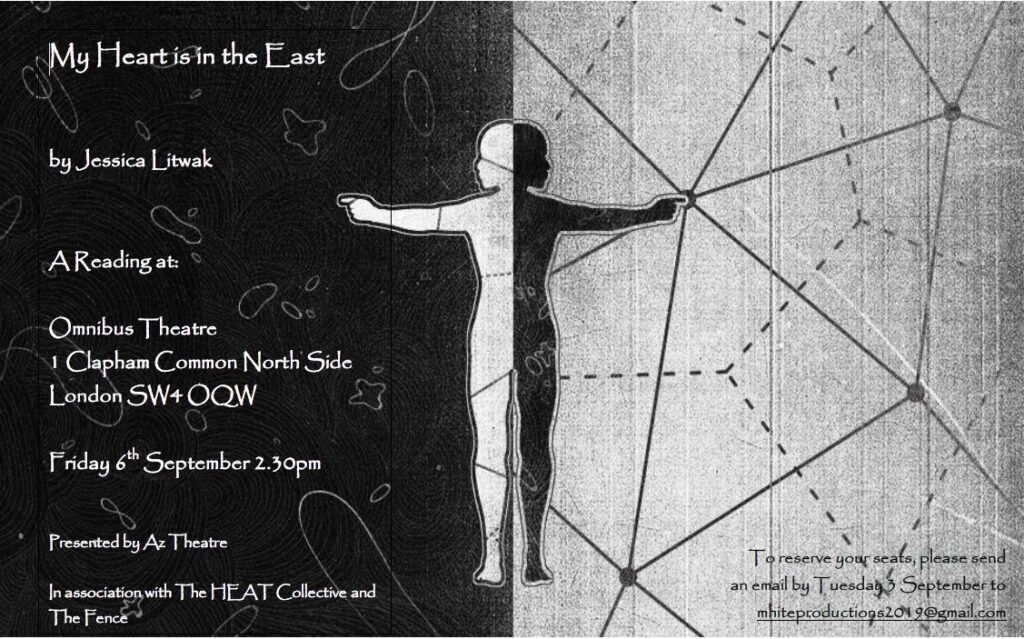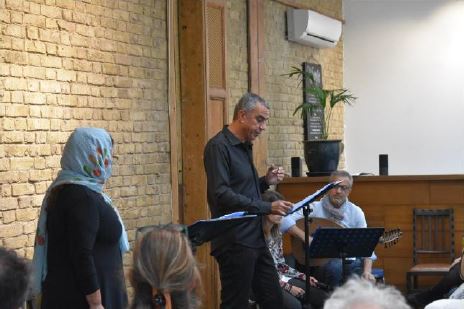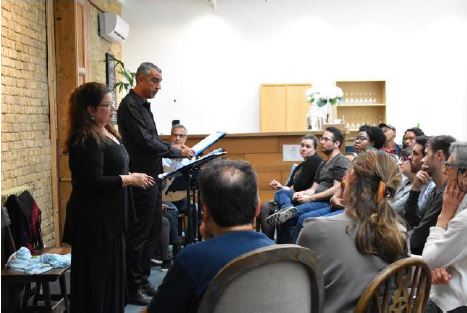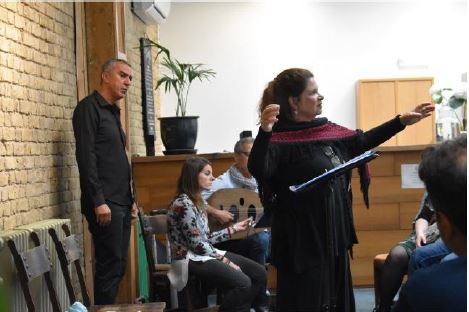 ABOUT THE PROJECT
I am currently working as freelance Producer of the play My Heart is in the East (MHITE) by Jonathan Meth and Jessica Litwak. A staged reading took place at the Clapham Omnibus London in Sept 2019 and tour of the show is planned for 2020/2021.
​The My Heart is in the East (MHITE) project centres around a play that deals with Moslem – Jewish relations across centuries.
The play is a thwarted love story that reclaims the transformative power of language; a place for poetry in the relentless face of twitter, wider social media and words that polarise, to overcome our loneliness and find out what might be the language of our hearts. Confronting the deep divisions of faith, culture and gender in unexpected ways, My Heart is in The East presents possibilities of re-imagined beginnings for those who are no longer young.
MHITE is a 2-handed play that takes place across two time-frames: present-day New York / Iraq and Medieval Spain, where oral poetry contests contributed to communication and cultural exchange between Moslems and Jews.
In New York a Jewish American professor (Miri) receives an invitation to Basra, Iraq to lead a series of puppet building workshops. An Iraqi Muslim (Ishmael), a street poet who is employed as a mercenary gravedigger, is hired to be her translator. Their relationship is both discordant and interdependent. They travel to Beirut trying to find a way out, but can only connect when they find themselves cast into the anteroom of a large poetry contest 1,000 years earlier in Cordoba, Spain. The play uses magical realism, music, puppets to carry us through time and space. At the core of the story is a rich and complex relationship between two actors, the characters they play and the language(s) they speak.
CAST & CREATIVES
Presented by Az Theatre, in association with the H.E.A.T collective and The Fence.
Playwright & Actor – Jessica Litwak
Actor – Fred Fortas
Musician – Lazhar Ghozlane
Director – Jonathan Meth
Creative Associate & Interfaith Liaison – Rosalind Parker
Producer/Production Manager – Anna Oggero
Photograpy: Fran Cattaneo
MADE FOR
Theatre lovers/Interfaith dialogue